Gone are the days when the door to door selling was popular and effective. Forbes listed door to door selling in top 10 dying businesses, a decline of 15% by 2018.
The Internet has totally changed the way how products are published and promoted. Affiliate marketing is at its peak, going to be almost $7 billion industry by 2020.
As an affiliate, you can work from any corner of the world, promote your product targeting any location you want. So now it's quite easy to promote your products through the internet, through your website or blog.
Read More: The Best Place to Start A Blog
A Thousand of products to be promoted, Affiliate marketing is at its all-time high.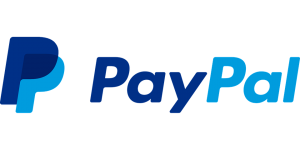 At the same time, you want to make sure your hard work and your profits get easily transferred to your bank accounts. You need a great online payment system that works best for you.
Thousands of online payment companies around there, making it difficult to choose which one is best to get paid you on time, which accepts payment directly and easy to use.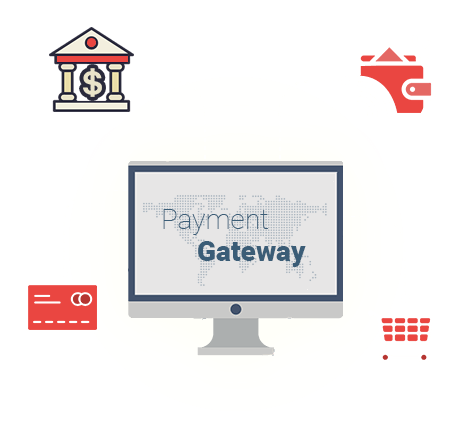 Among thousands of companies, PayPal stands out with its great features like free registration, personal and professional accounts according to your business needs, easy to use and trusted by millions of people across the world.
What is a PayPal
PayPal is one of the world's largest Internet payment companies operating more than 200 countries, 25 currencies and having 227 million active accounts by 2017, including 18 million merchants as announced in PayPal's Fourth-Quarter and Full-Year 2017 Results, by Dan Schulman on February 1st, 2018.
The company operates as a payment processor for online vendors, auction sites, and other commercial users, for which it charges a small fee in exchange for benefits such as one-click transactions and password memory.
Operating a worldwide online payments' system that supports online money transfers and serves as an electronic alternative to traditional paper methods like checks and money orders.
PayPal is one of the world's largest Internet payment companies.
PayPal was developed and launched as a money transfer service at Confinity in 1999, funded by John Malloy from BlueRun Ventures later on it is renamed as PayPal in 2001 from the X.com company.
What is the use of PayPal account
PayPal allows customers to send, receive and hold funds in 25 currencies worldwide, with 202 million active users by 2017.
PayPal's services allow people to make financial transactions online by granting the ability to transfer funds electronically between individuals and businesses.
Through PayPal, users can send or receive payments' for online auctions on websites like eBay, purchase or sell goods and services, or donate money or receive a donation.
Using PayPal is a breeze now as it caters all services from shopping, booking your latest flick with Book my show or planning your last minute holidays.
The Latest addition of two new PayPal Here card Readers with the flexibility to pay anywhere, anytime and anyway for consumers as well as for small businesses to accept the payments'.
How to set up a PayPal account
It's totally free to set up a PayPal account. You can choose to create a personal or Business account. It's always better to start with creating a personal account as you can upgrade your personal/Individual account to Business account later at any date. But you can not change a Business account into a personal/Individual account.
Individual Account is best for making your online shopping experience safer and faster. PayPal gives great protection to its buyers under different schemes.
Business Account enables one to receive international payments the safer, faster way. A business account has many unique features like simple pricing across all payment methods, no monthly fees, fraud prevention, seller protection. PayPal has its own Resolution Centre can help with disputes should something go wrong with a purchase.
Enter your Country, mailing address and password to start with.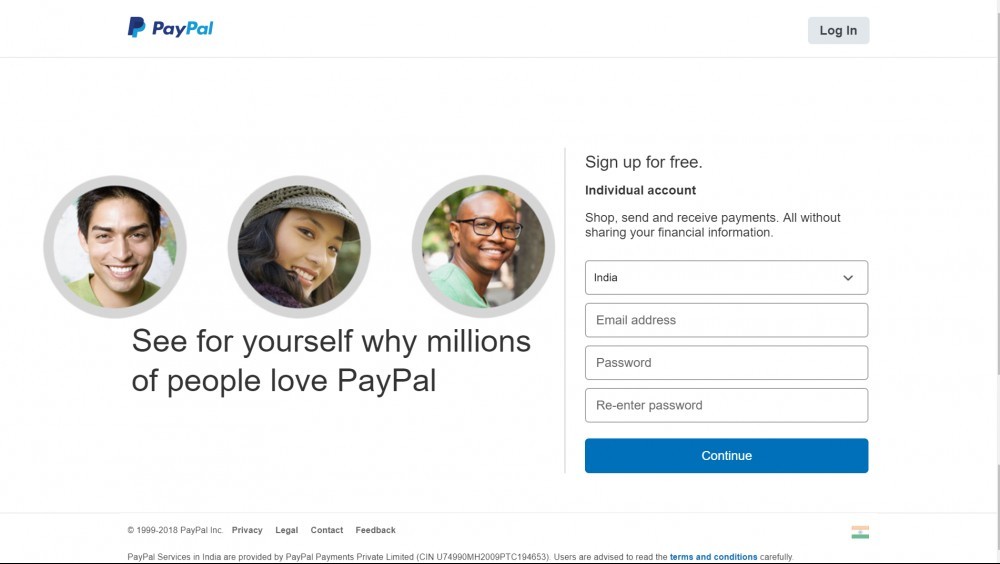 You need to select Shoppers account to set your personal account.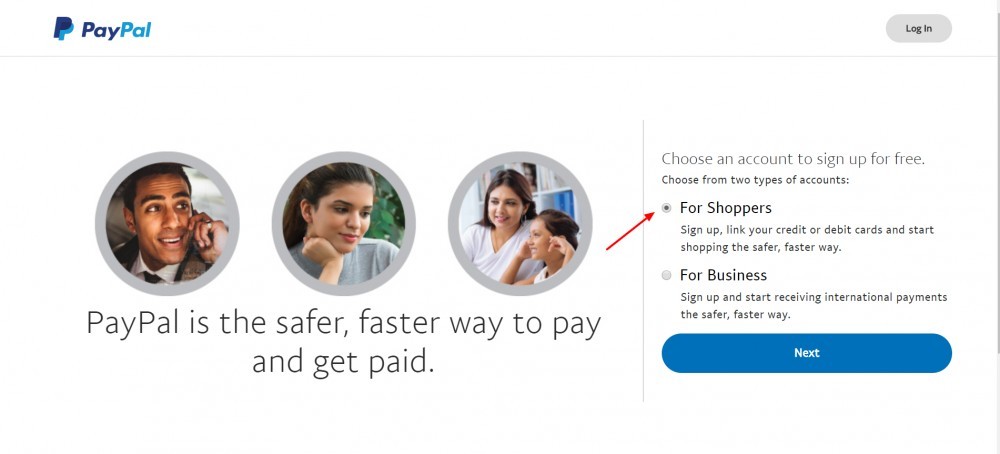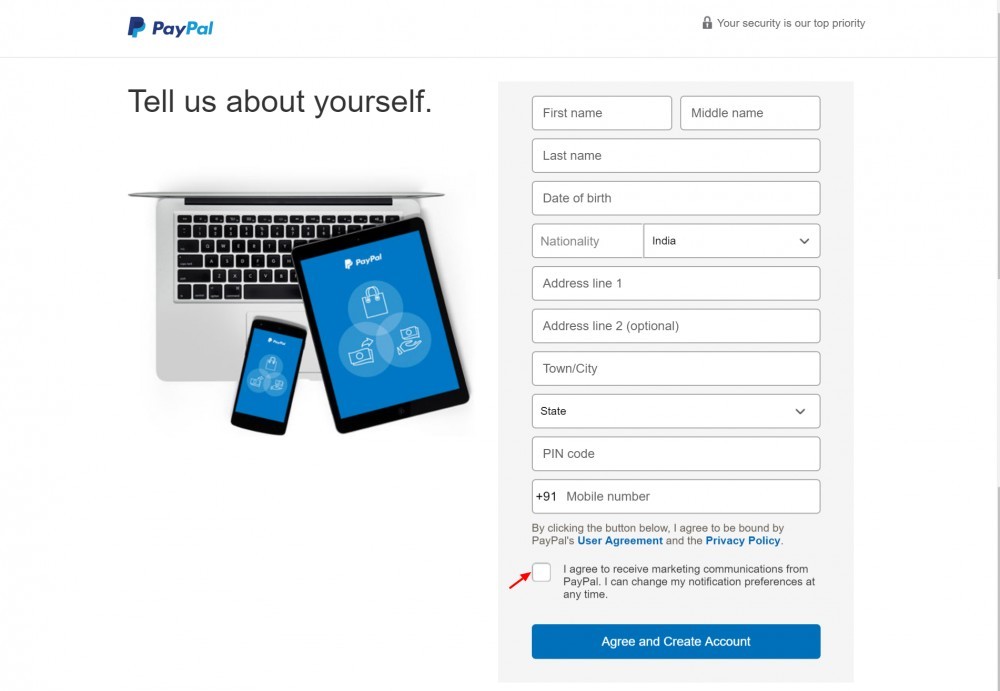 Fill in your details, check the little box, click on Create Account button and your Personal PayPal account is ready to go.
Shop and Pay with ease – Link your debit/credit card
Before linking your card, make sure your bank accept international transactions through PayPal.
Make sure to link a valid card to your PayPal account.
Check with your issuing bank for your spending limit.
Only once you have to link your card to your PayPal account, and you need not fill your bank details every time you shop online, on every website.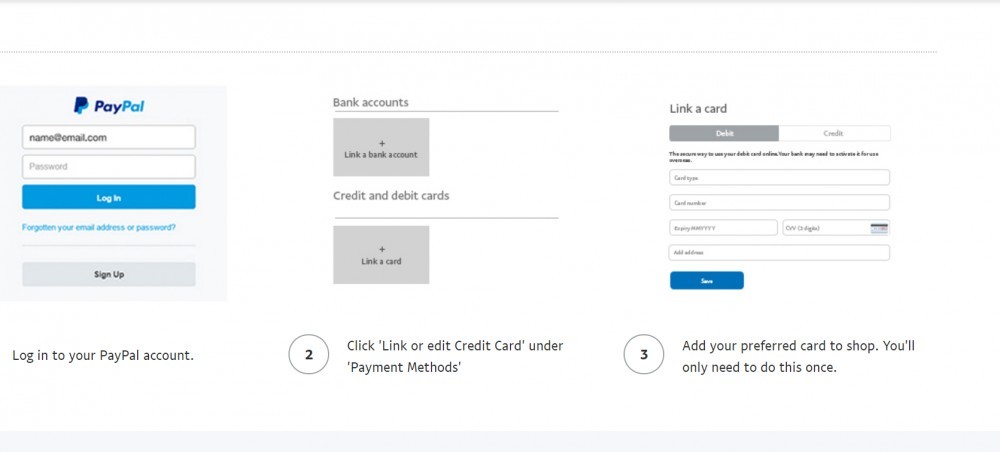 Shop with ease @ PayPal
PayPal makes shopping safe and easy. PayPal gives the buyer the best possible protection for online purchase.
1. No fund needed – Once you link your debit/credit card to your PayPal Individual account, you need not add balance in your PayPal account. It directly deducts the amount from your card.
2.180 day refund window – PayPal offers the longest time period of 180 days to claim a refund.
3. Skip the logins with One-touch.
Once your Individual PayPal account is set up, activate One Touch™, you'll stay securely logged in on all your devices for up to 6 months and still be covered by the same Buyer Protection and world-class fraud protection.
4. Refunded Returns: PayPal offers its customers Refund on Return shipping cost. If for any reason you want a refund on your products, PayPal fully covers it.
With all these offers PayPal stands out in the other internet online payment systems. PayPal's 180 days refund window is quite a unique feature which offers buyers complete protection against any fraudulence.
PayPal offers many discounted products and services especially for its users, check out the latest offers by PayPal.
The Latest product range from PayPal
PayPal has just launched new range of products
The New Chip and Swipe Card Reader.
PayPal Chip Card Reader
PayPal Chip and Tap Card Reader
PayPal Chip and Swipe Card Reader
PayPal Mobile Card Reader
Let's find out Best Card Reader for Your Business.
With all these new features Paypal is the best payment option available online.  With a wide variety of products, discounts, Paypal has established itself in Online Payment Systems.
Hey friends, if you have any questions, queries, pl let me know and I will be glad to answer.
Is this article helpful to you? if yes, share it with your family & friends.