After reading 4 Steps to Affiliate Marketing for Stay At Home Moms, many were impressed by the success achieved by the Mompreneurs and asked me which is the best place to start blogging.
There are many free and paid Online Platforms are available which you can leverage to start as a blogger, and I have also discussed in the above article.
All among the listed, I would recommend Wealthy Affiliate if you want to start your career as a blogger for various reasons.
First of all, it's free to join, plus you get all the tools and training to establish yourself as a blogger totally free.
Secondly, it has a great community to support you with all the successful affiliates around you from which you can learn a ton of things.
Most importantly, Wealthy Affiliate continues to produce huge success stories on a regular basis.  Almost every day you will see that some of the other posting their success story.
So it's a very soundproof that Wealthy Affiliate works.
Success can be Subjective
The word Success is subjective, and it has many dimensions. Generally, we tend to stick  Success to financial success, and that is absolutely fine.
But Success is a cumulative process, it does not happen that you earn $10,000 all of a sudden, every day you learn something new and apply to your online business.  
Every baby step is a success because many of us have never heard about affiliate marketing and blogging.
Many of you may have discovered this opportunity very recently, so each day is a success when you learn and apply to your online business.
But I have no doubt, that one day you will surely achieve your goals if you continue to work on your website without fail.
Wealthy Affiliate has numerous success stories of all kinds, but for this article, I have focused on mom entrepreneurs who are doing absolutely fantastic on WA platform
These mompreneurs are working very hard and they also started their blogging career as a newbie, but they kept learning and applying this knowledge to their business, and achieve a huge success.
I have particularly chosen Mom Entrepreneurs, who are just like us, Stay at Home Mom, but it does not stop them from achieving their goals and fulfilling their dreams.
They all have families and kids like us, they also face problems like us, they also have all the kitchen stuff like us, but still, they make it a point to work their online business.
Many of the stories I read, show their strength as a person, as a mother, and as an entrepreneur.  I am sharing these stores so that all of us get inspiration, focus and a strong mindset to start and continue with our businesses.
Building your own online business is not an easy task, but with the WA, it's worth a try.  If you hustle, at the end of the day you will have a very fulfilling and successful online business.
Top Successful Mompreneurs at Wealthy Affiliate
The first story which I want to share is Lynne Huysamen.
Lynne is a mom of 2 and happily married to the love of her life.
Lynne is a WA member from June 2015 and has achieved a great level of success from then.
Lynee has many successful websites, mainly Kaboutjiie and Living with Addiction.
Lynne started working online from 2011 as a complete beginner and was doing freelance bookkeeping for a few years.
She first started working online in 2011 when launched an online baby store in South Africa. Lynne then launched a wholesale website for baby clothing soon after. Then Lynne started a blog about her addictions (yes she was an alcoholic and addict)
Lynne was a complete beginner when she started working online in 2011 and have learned so much in the last few years. It was a long and tedious process trying to figure it out on for her own. Which is why she planned to share everything she has learned on her website to help make her readers journey a little easier.
It is really amazing to see how Lynne has overcome her personal and professional hurdles and now a successful mompreneur.
As I mentioned above, Lynne was an addict and one can imagine the hardship she must have gone through to achieve today's success.
Lynne has come out as an all-around personality and achieved success on all the platforms on which she worked.
She has an astonishing success with Amazon, Google Adsense, Fiverr, Pinterest, Instagram and of course on her blogs.
Let's see some of his major achievements:
Amazon:
Like all affiliates, Lynne is an Amazon affiliate and like all of us and received her first Amazon commission of $7.17, it was her first Amazon sales and in a year's time, she reached the threshold of $100 and now crossing $1000.
So it always starts with your first sale, it's important to continue even if it only a few cents, it continues to grow if you work on it continuously.
Google Adsense:
Lynne is doing great with Google Adsense receiving R1000 (appr $82.62) as first earning from it and earning it a day.
Doing Superb as an Influencer:
Lynne has set his rate card for his services but now and then she got some surprises like this.
The amazing thing is that very often the offer is a huge amount more than my rates. In fact last year I was asked for my rate card which I sent the customer and they sent me an email back offering me R10 000 (approximately $700) to write and publish a sponsored post when the rate listed on my rate card was $150!
Now as Lynned said this job does not require more than 3 hours on her part but she received $700 for it.

Lynne continues to expand her horizons as an Influencer.
Pinterest:
Lynne also dominating Pinterest with 367.2k monthly unique views and 8k followers.
Follow Lynne on Pinterest
Lynne also an Instagram Influencer with 7089 followers!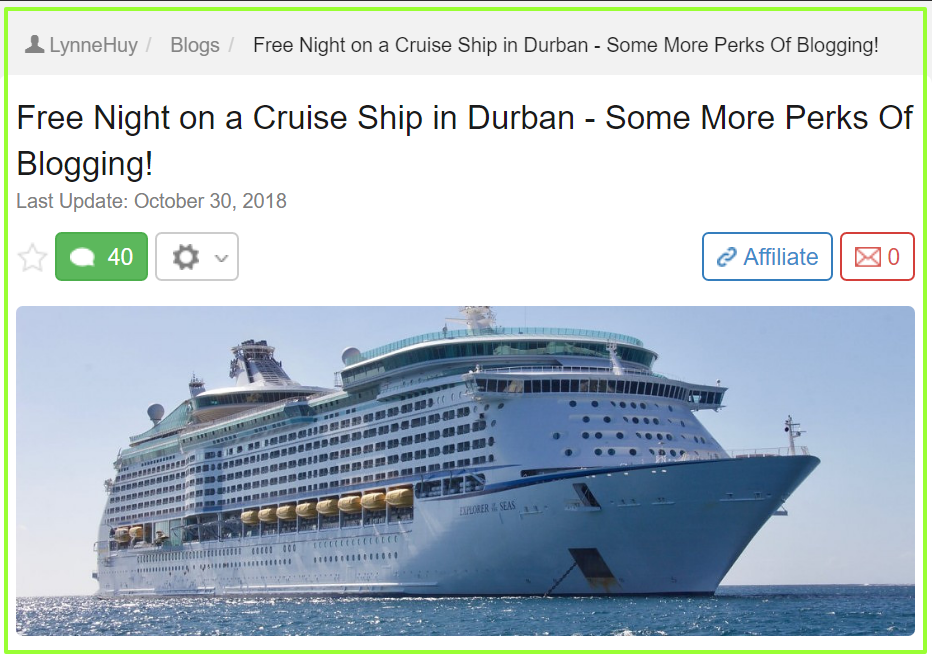 Now, how cool is that?  For doing your job as a blogger, you can always expect some nice surprises like this.
Lynne also has achieved some fantastic success with Fiverr, earning more than$1000 till date.
So hey, mommy bloggers there, blogging is much more than just posting blogs and you can achieve any level of success with blogging.
2.  Grace – Littlemama Super Affiliate at WA
I am really happy to introduce you to Grace, aka Littlemama, Super Affiliate at WA.  Grace joined WA in September 2016.
Grace is a mom of two girls and wife, Grace was working online before joining WA, had two online shops of handmade products but was not happy, so joined WA with the hope that she will earn a real income and support her family.
Grace was a working woman, busy with her accounting career, in a corporate world.  But when her first child born, she prefers to stay at home and take care of her child.  Soon after her first child, she also expected the second one.
so one can imagine how busy here life might be.  But Grace thoroughly enjoying her new status as a stay at home mom, and she cannot imagine the joy and happiness with her corporate job, she says she was loving "all is being there for all their firsts! I wouldn't trade that for any high paying job."
but one thing that was constantly bothering her that she was not able to contribute financially to her family, so she tried dabbling in blogging and online store of her own.  But as she didn't have any training and experience in these fields, that endeavor was not successful.
In 2016, she joined Wealthy Affiliate, and from then onwards, there was no looking back for Grace.
But within two years she has achieved and surpassed her goals.  It's amazing to see what one can achieve in two years of span.
With affiliate marketing, and only with one website Grace has achieved so much – in one of the recent posts she revealed how affiliate marketing can earn you huge commissions.
As an affiliate marketer, you can join a number of platforms through which you can earn a commission, but from just one platform Grace has earned $452 in a day.   So you can imagine if you work hard, affiliate marketing can earn you loads of money.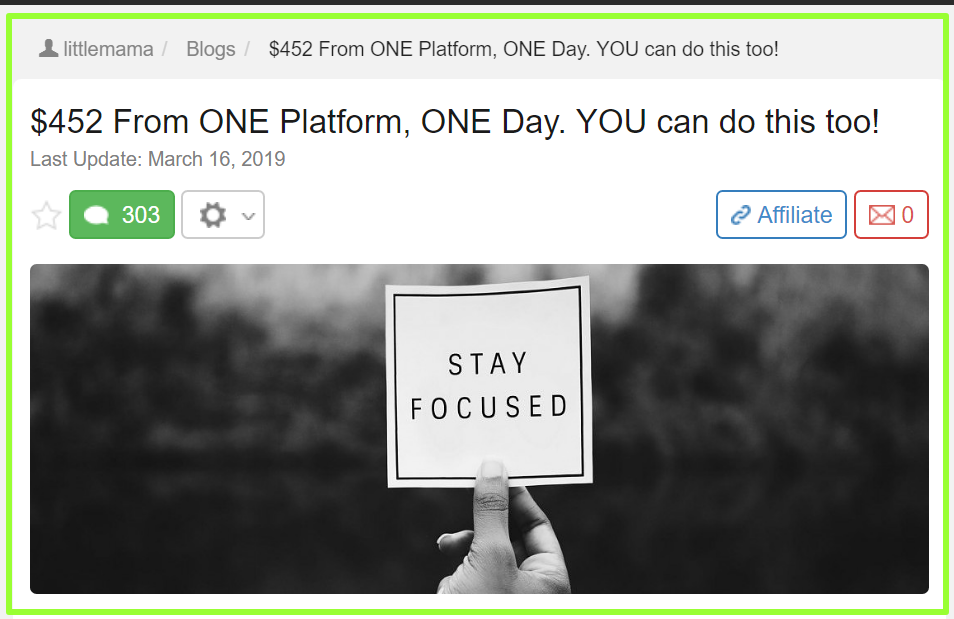 By promoting WA, she has earned herself a Super Affiliate Status, and have a look at some of her stats:
$40 k in 2018, just by affiliate marketing and blogging.
Her blog has reached 370k visitors in 2018.
In one of her blogs on WA, Grace shared some of her income proofs, and you will be shocked to see the difference of her income in just a year.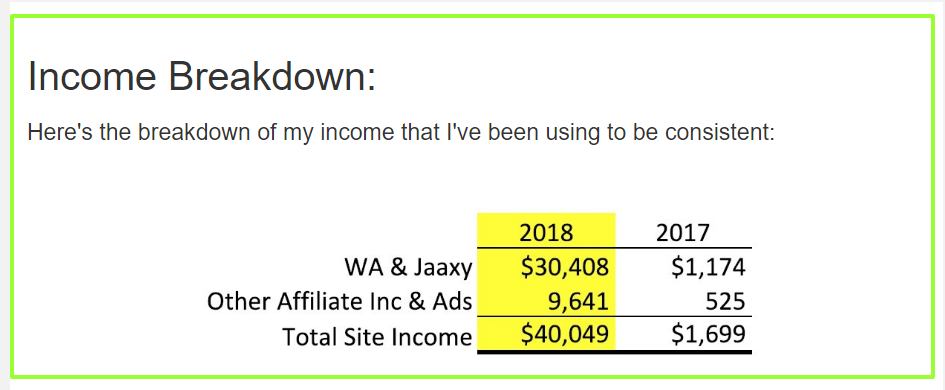 You see in the first year of blogging she earned very little but from 2017 her income grows astoundingly.
2018 – Grace Summary:
Achieved 4 digit income in Mar/18
Achieved Vegas Super Affiliate Conference in Aug/18
Over 600 blog posts
369K visitors
$40K highest the income year 2018
$7.9K highest income month in Nov/18
One website – Started Sep/16
In 2018, Grace becomes a Super Affiliate by Completing Super Affiliate Challenge.  What is a Super Affiliate Challenge?
Every year WA, conducts an intensive course on affiliate marketing, where selected WA members, has given training on becoming super affiliates.
Once you complete the Super Affiliate Challenge, you are invited to Las Vegas for  Super Affiliate conference, fully paid by WA.
You must have heard that such kind of conferences held by different corporate companies, but you need to pay to attain that conference.  But here at WA, you are fully paid to attain Super Affiliate Conference.
Grace attained Super Affiliate Conference and shared some really interesting stuff.
I want to read you the blog in Grace's own word, you can feel her emotions through this post: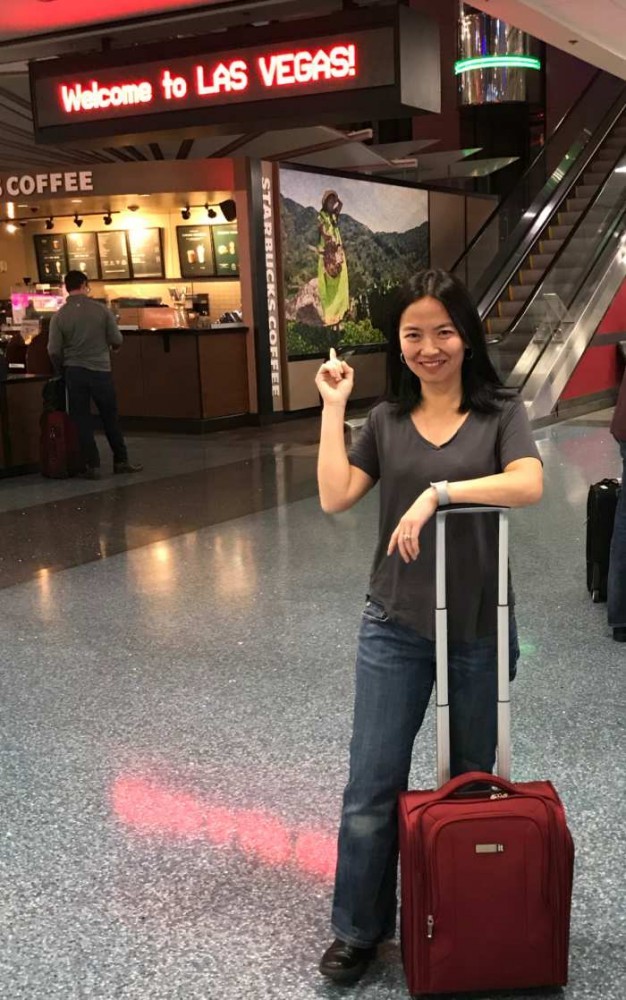 Grace is also doing great with her YouTube Channel – Grace aka Little mama, and I have no doubt that she will achieve new levels of success,  We all are proud of you Grace!
There are many more successful mompreneurs at WA like Loes, Marion, Lowellann, and many more.  I will keep you informed with all these successful mompreneurs on a regular basis.
Now from some days, we are discussing mompreneurs and why it is important to have your own business?
It is obvious that having your own business gives you a sense of pride, fulfillment but the road of mom entrepreneurs are not always easy.
So it is also important to have some basic characteristics for becoming a successful mompreneur.  I know being a mother is a tough and challenging job and we all have gone through these tough situations.
For a mother, it is easy to become an entrepreneur, because as a mother you already have gone through different challenges.  But still, it is important to imbibe some characteristics to become a successful entrepreneur.
 Healthy and Positive Mindset
A positive mindset helps you a lot when things are not going well.  As a mompreneur, you are going to handle two responsibilities at a time, as a mother and as an entrepreneur.  It is important to have a balance of both.
Particularly on a business front, sometimes it may happen that nothing seems positive and you feel like it not going to work.  But it is important to have a positive mindset and look at the brighter side of the problem.
If you always focus on negative, it will adversely affect your productivity and your business.  Particularly in blogging, it is important to remember that you need a ton of hard work, patience, and persistence in the first year.
If you have the right mindset, and ready to invest your time, hard work and money in your business, you will surely get good results for your hard work.
To maintain a positive attitude you should read some good books on the subject, or watch Youtube videos which will help you to stay positive.  It is also important to have a friend circle that will always encourage you and keeps you motivated.
As a mompreneur, there are many FB group which you can join, to get encouragement and different ideas from them.  Such support groups play a vital role to keep you positive.
A positive mindset is the first ingredient of success, without which it is very hard to achieve any level of success.
2. Never give up
You need to inculcate the never die mindset.  As a mompreneur, you are going to face many problems, and with an attitude like this help you to overcome all the problems.
As a blogger, the problems which you may face at the start like finding content ideas, google ranking, traffic social media presence, video making and so on.
But all these problems are faced by everyone who started blogging, so in fact, nothing to worry as such.  One can handle these issues with patience, knowledge and learning new things constantly.
If you read the stories off successful bloggers, which I encourage you to, you will find that all of them struggled a lot, and the path has never been easy for them.  But the one thing that keeps going them was their never give up attitude.
They always worked constantly to achieve their goals tirelessly and achieved success.
3. Be Flexible in learning new things
One of the major requirements for becoming a successful entrepreneur is to have a flexible attitude while learning new things.  As an entrepreneur, you need to learn hundreds of new techniques, which you may not know before.
Always remember that magic happens when you work outside your comfort zone.   As an entrepreneur, you may need to learn new things like writing, editing, making youtube videos, podcasting engage in social media platforms and so on.
But if you are flexible in learning, you can easily learn new tips which are important for your business, but it helps you to grow as a person.
4. Set Goals
To Set, Goals are important for any entrepreneurs.  When you set a goal, you become committed to achieving that goal in a time frame.  Also, by setting goals, you achieve more and done in a period of time.  To start with, you can decide a goal for a day, when you start your day, decide what you want to finish on that particular day and see that you finish that goal at the end of the day.
In the same way, you can set a goal for a week, a month and a year.  You will observe that you will achieve much more and more productive.
If you never set a goal, you end with wasting your time and not so much on your part.  While setting the goals it is also important to set goals according to one's capacity.  As each one has different time availability.  If you have only a few hours at hand, see what you can achieve in that time slot.
To start with never set too high goals, which you can not achieve, also this leads to frustration and disbelief in one's capacity.
Instead, to start with, set a goal that you can easily achieve, this way you get into the habit of completing your goals and confidence to achieve it.
There are many books that will help you to set your goals and guide you on how to achieve your goals on a personal and professional level.
5.  Know Your Why
As a mompreneur, sometimes you may find it difficult to continue with your business, and you may think of quitting or to take a break for a while.
Everyone goes through this dilemma, but at this time it needs to remember what was yours why?  Recall the moments why you started your business, what were your dreams and what did you wanted to achieve.
It is also a good idea to write down all your goals, which you have planned for your business. so that once in a while, you can go through it.  Also, it will help you to be focused on your goals.
If you feel discouraged, go through your goals and remember your why everyone has their own different whys, try to remember that and it will help you to keep you on the right track.
6. Stay Away From Distractions
While working on your online business, we create many social media accounts like Facebook, Instagram, Pinterest and so on.
It is important to limit our activities on these platforms and not to distract ourselves.  It may cost you valuable time.  As a mompreneur, we need to plan our day in a productive way.  So it is important to stay away from distractions.
These social media platforms eat up our valuable time and you end up spending more time than necessary, which will end up working less time on your business.
7.  Time Management
The importance of time management cannot be stressed enough.  We all face this situation when we need more hours in a day, especially when working as a mompreneur.
As a mompreneur we need to balance our time between our family and business, it is important to manage time properly so that your family does not suffer.
In the business field also it is important to manage your time properly.  There are many online apps which can help you to manage your activities properly.
8.  Sacrifice
For a mompreneur, it is not needed to explain the importance of sacrifice, but it is also important to remember that as an entrepreneur, you need to sacrifice your old habits which will sabotage your business in along-term like watching long hour TV, chatting with friends and wasting time.  It is important to invest your time in your business instead of these time-wasting activities.
You need to sacrifice these small things, as the time saved can be invested in learning new things or writing a blog or any other activity relating to your business.
9. Stay healthy
This is one of the basic requirements, which you need to adhere to regularly.  As a mompreneur, it is important to stay healthy physically and mentally.
You can take any yoga class or do regular exercise to stay fit so that you can work on both ends.  Also, it is important, to take care of your family and your business you need to stay healthy.  If you don't care for yourself, it will harm your family life and business life too.
10. Take Help
While working as a mompreneur, it is also important to take the help of other family members like your children.  If they have grown up kids, you can hand over them small responsibilities, which will help you to free up some time for yourself.
Also, it will help your children to be more self-reliant and confident.
Conclusion:
To be a successful mompreneur is not a difficult task as such, because as a mother we have already handled many responsibilities and aware of different stressful situations.
We are already trained ourselves to have great communication with all the family members, so these skills become helpful when you start your business.
Though becoming a mompreneur seems very daunting, it should not be so.  It is important to plan all your activities in advance.
Also, to have a flexible attitude and thinking out of the box helps you to be successful in your business venture.
To achieve success like Lynne and Grace, one needs time management, hard work, never die attitude.  Positive attitude Is a must if you want to start your own business.
So I encourage every mom to think about all these points, and each one of you can become successful like Lynne and Grace. But which is the best place to start your online business, read Here.
I hope you found this article helpful and if you think it can be useful to your friends and family members, pl share it with them.
If you have any questions, or suggestions regarding becoming a successful mompreneur, pl let me know in the comments below.  I will be more than happy to guide you in the right direction.
Want to know the best online platform to start your business, the best part is you can get an awesome deal on the subscription.  Choose that suits you the best.