One of the main features of Wealthy Affiliate is its extensive program.  Wealthy Affiliate has a ton of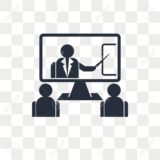 training on different modules of online marketing, from content creation, content marketing, Social Media Marketing including all major Social Platforms like Youtube and Instagram, Facebook training.
It's really an awesome feature of WA, you get training on all possible subjects, that's also free.  All the training are included in your membership.  You don't have to pay any extra money for additional training.
Different types of Training available at Wealthy Affiliate
Online Certification course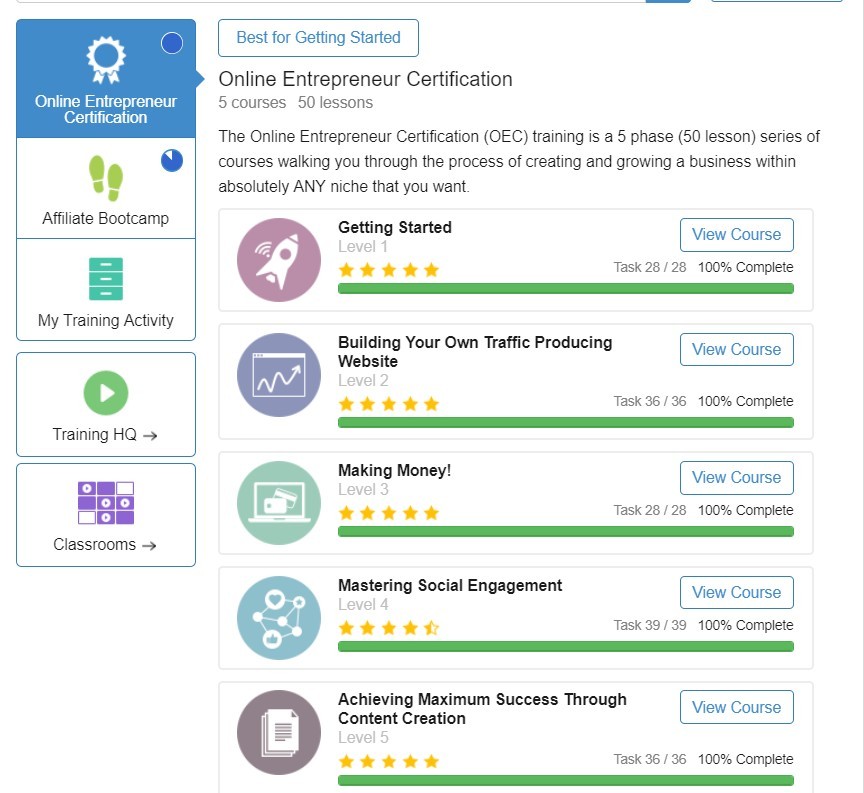 This Module has 5 Levels, each having 10 lessons, in total 50 lessons.  The first 10 lessons are available to all, even if you joined as a Starter Member.
Bootcamp training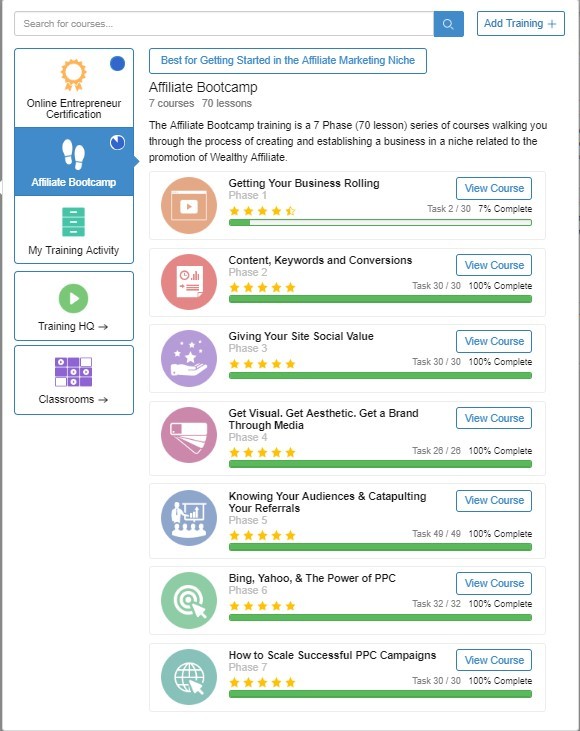 Affiliate Bootcamp training has 7 courses, total 70 lessons.  First 10 lessons are free to all.
These two trainings are the core trainings available at WA, besides these trainings Live WAbinars and Training by Community membrs are most up do date trainings.
Live WAbinars
Live Webinars by Jay, at every Friday, gives you the training on the  latest happenings in the online world.  Every Friday, Live WAbinars are held on different topics covering everything from website developement, content creation, content marketing, SEO,  Trining on Facebook, PPC campaingns and much more.
More than 500 Live WAbinar recordings are available to Premium members.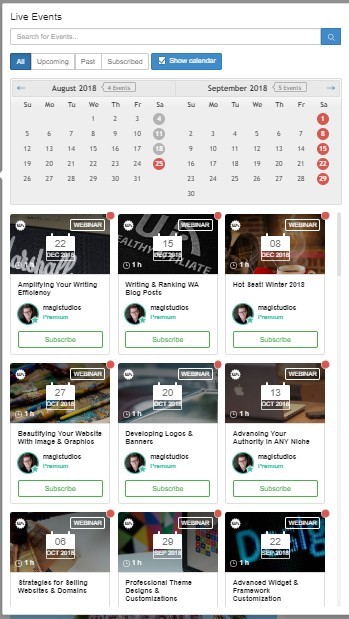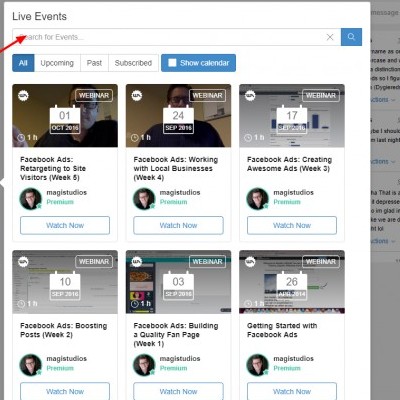 You can find Live training on every subject, here is a screenshot of trainings on Facebook.  You search for any of the training in the search box above.
Training HQ
Training HQ is a place where you can find all the trainings availale at Wealthy Affiliate.  You can search training by going through different classes, events or classrooms.
The data of information is so huge, that you can not learn evey piece of trainng even in a year.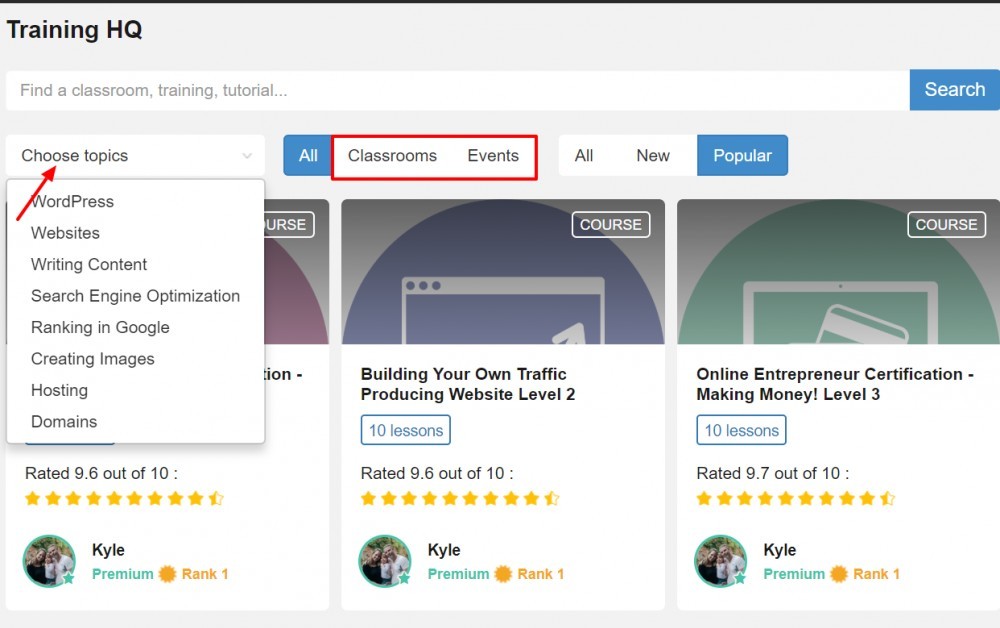 Classroom trainings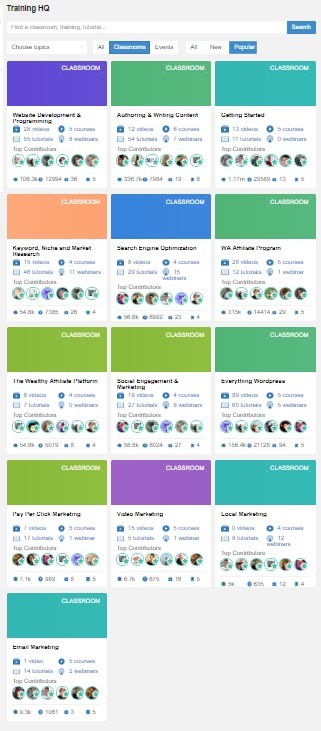 Training by Community Members
On a daily basis, community members share their knowledge by making new pieces of training.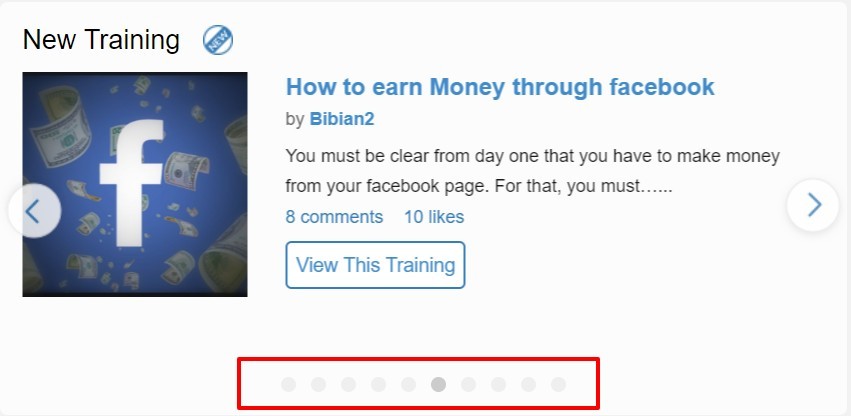 Every premium member of WA, can create training for the community and get remuneration for it.  You will find a ton of pieces of training created by community members on diverse subjects.
And all these training, are included in your membership.  Most of the training is available to starter members also, but Live WAbinars and if training is labeled as for Premium Only, not accessible to Starter Members.
Recommended Read: Earn While You Learn with Wealthy Affiliate – A Rare Opportunity.
Highlights of Wealthy Affiliate Training
WA is a great source of online marketing training and information
The trainings are always fresh and up to date, as everyday members create training for the community on the different subjects.
No additional charges are to be paid for any extra training.  How awesome is that?  Once you are a premium member the plethora of information and knowledge is available to you.
You must have come across the online platforms, where you have to pay for every live webinar or any additional training, as Upsells.  WA is totally free from Upsells.
Members who create useful and informative training get paid according to the popularity of training.  A source of additional income for the WA members.
Every year we pay thousands of dollars for the studies of our children, and that is also for a limited syllabus.  Beyond that limited syllabus, you don't have access to other training or syllabus.
But here at WA, once you enrolled as a premium member, you have access to all the data of training – including past training, and all future training totally free.
Honestly, I have not found any other online platform which provides you such extensive, all-inclusive training, why don't you have a look at it? It's totally free to join.