What is Affiliate Marketing?
Affiliate Marketing is recommending quality products and services to your readers at the same time helping them to make an informed decision.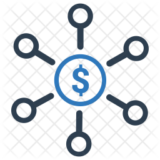 As an affiliate, you earn profit by promoting products on your site if actually, people end up buying.
Pat Flynn describe Affiliate Marketing as follows
"Affiliate marketing is the process of earning a commission by promoting other people's (or company's) products. You find a product you like, promote it to others and earn a piece of the profit for each sale that you make."
This whole process is divided into 4 parts

1. Choose an Interest
To start with select a hobby, a passion that interest you. We all have our different interests, and passions.  Select one in which you have knowledge and willing to help people.
You can transform any hobby or passion into a business.  There are around 1+ million niches and certainly, you can choose one of them.
Literally any hobby, interest can be turned into a business, with proper guidance and training.
2. Build a website
Having your own website has many different advantages. The fact that more than 90% of the consumers use the internet to search for the  products and services before they make any purchase, make it very important to your business to have your website.
more than 90% of the people searched the internet before making any purchase.
Read Here. Why Does My Business Need a Website
Building your own website is quite easy nowadays.  But  How to choose the best platform to build your website.
Read Here: Best Place to Start Your Blog.
3. Get Rankings and Visitors
There are more than 4 billion potential customers online, and these people are searching for products and services.  So there is a huge traffic which needs to be tapped.
Getting your website ranked in search engines, is the most important thing and Wealthy Affiliate teaches you how to built and rank your websites.
What's So Important about Wealthy Affiliate Training?  Read to know why I am recommending it .
4.Earn Revenue
Once your website is ranked and getting traffic, your revenue sources are unlimited.  598,500,000 Products YOU Can Instantly Sell.
As an affiliate, you can join and promote top brands, without spending a dime.  As an affiliate, you can promote tons of products from Amazon, Flipkart, and other tones of products to earn revenue.
These are 4 easy steps of Affiliate Marketing, and you can learn everything about Affiliate Marketing by joining Wealthy Affiliate, the topmost affiliate marketing university.

If you have any questions about Wealthy Affiliate or affiliate marketing, pl let me know in the comments section below.
Is this article helpful to you? if yes, share it with your family & friends.