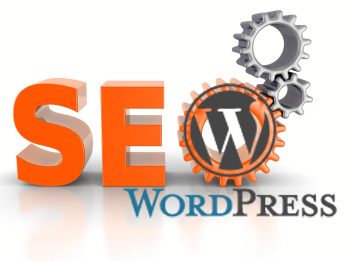 SEO – Search Engine Optimization – is a strategy, used for ranking your websites in different Search Engines like Google, Yahoo and Bing.
It is a method used to help the search engines to find out your content easily and get higher ranks in SERP.  Without proper SEO, it is difficult for any website to catch the reader's eyes.
WordPress as an SEO optimized CMS, the most popular today worldwide, almost 30% of the Internet is powered by WordPress.
No doubt WordPress has optimized code and formatting, which follows best SEO practices, but there are many other important practices you need to follow, to get a website indexed organically.
Why is SEO important?
Search Engines like Google any many other, are the biggest source of organic traffic.  These search engines have the ability to pull the huge traffic to your website if your website is SEO optimized.
Google and all the search engines have their own algorithms to find out and rank the content but it needs your extra effort also to make the search engines to learn more about your content and rank them in SERP.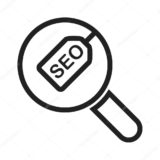 Today, it is most important to make your website SEO optimized, otherwise, it's really difficult to get ranked in the SERP – Search Engine Result Page.
Your content, however it may be good, is not of any use if it is not on the first page, as readers are less likely to search for their desired results other than the first page, thereby missing out all of the possible traffic to your site.
So, is it difficult to optimize your website for SEO?  It need not be!  If you just follow the basics of SEO, your site is good to get good rankings in Search Engines!
Basic Settings for SEO in WordPress
1.Visibility Setting
The first thing you need to check the Visibility setting of your website.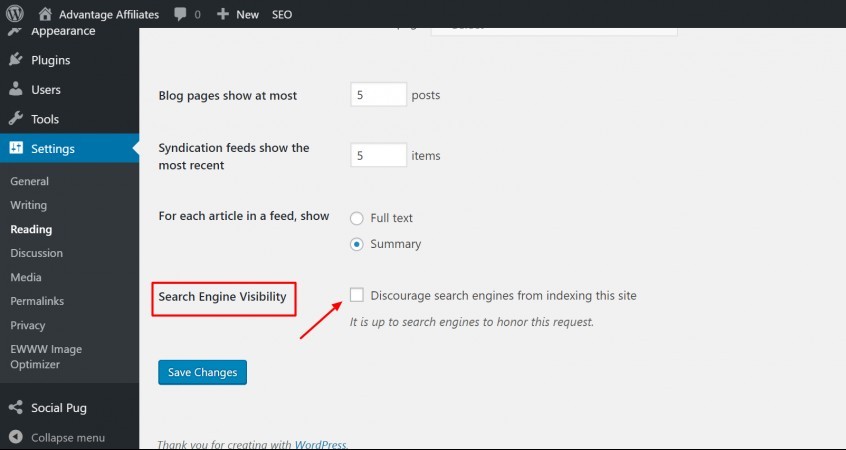 WordPress comes with in built functionality to hide your site until it is complete and ready to go online.  That is if you check the option under Settings > reading > search engine visibility, your website is not going to appear in search engines.
You need to uncheck the Visibility option, to get your website visible in Search Engines, and don't forget to SAVE CHANGES, to store your changes.
2.SEO friendly URL
SEO friendly URLs contain words that clearly indicates the content on that particular page and is easy to read to both humans and search engines.
https://advantageaffiliates.com/ what is seo in wordpress
Never use URLs that not related to content and having numbers in it.
https://advantageaffiliates/ ?p 10467
You can set this by going to Settings > permalinks and Custom Postname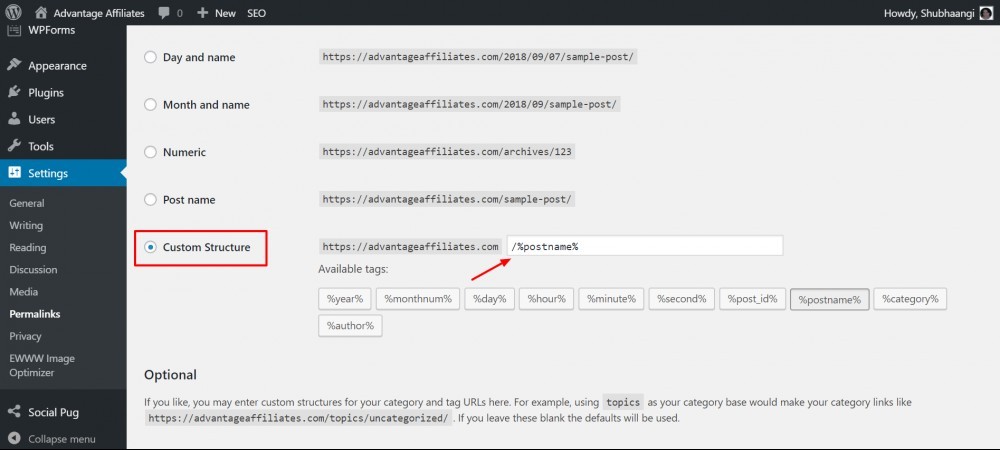 3.AIO – Best WordPress Plugin
Use All in One SEO Pack to optimize your WordPress site for SEO. It's easy and works out of the box for beginners, and has advanced features and an API for developers.
Download All in One SEO Plugin
Once you activate AIO plugin, it's quite easy to show your content in the search results, as AIO plugin have specific fields which you need to complete.
4.Meta Title
Meta title and Meta description both serve the SEO purpose, your actual post title can be different from Meta Title.  In short, Meta Title is the post name which is shown in Search results.  If the AIO plugin is activated, you can change your Meta Title and Meta Description, to make it more attractive and enticing.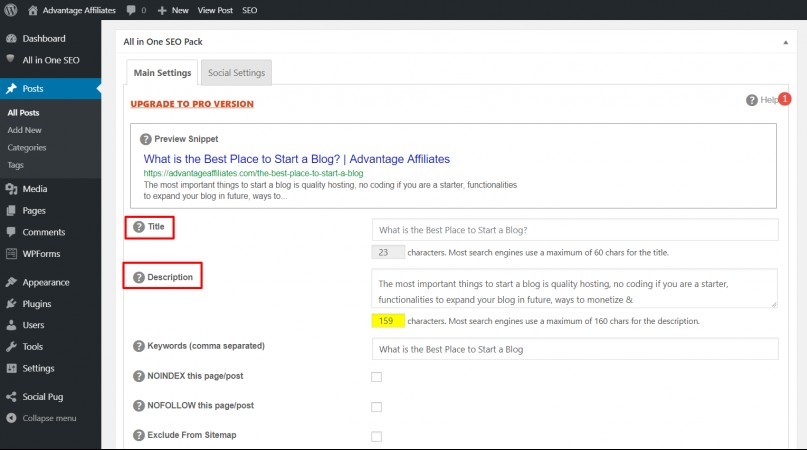 The Maximum length for Meta title is 60 characters and 160 for Meta Description.  The Preview Snippet area shows you how your blog post going to appear in search engines.
5.Meta Description
Meta Description is one of the most important things that you need to be filled out carefully, as this little description can help you get more clicks if it is properly formulated.  this is one of the places where your content is going to be stand out in the first 10 listing in the first page of search engines.  So make it catchy, and see how your click-through rate goes up.
6.Social Meta Title & Description
It is the place where you can decide how your blog post will appear in social media like twitter, facebook etc.  You can also add a particular image which you want to show up in the social media
7.Google Search Console, Google Analytics ID
8.Create an XML sitemap
Adding your site to Google search console and put your Google Analytics Id in the AIO plugin.
Here is a video training on how to do the All in One SEO for your website.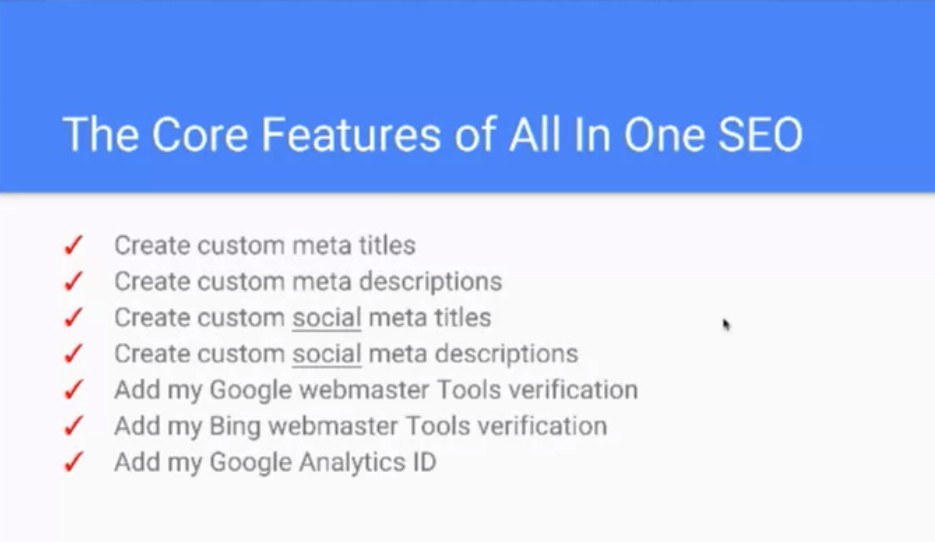 These live webinars are held every week for premium Wealthy Affiliate members, totally free of cost and without any upsells.  I hope you will find this webinar useful for SEO of your content.
. If you have any questions or comments pl leave below in the comment section.